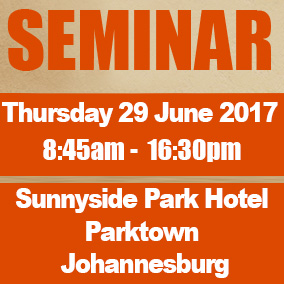 NEW CHANGES AND DANGERS IN LABOUR CASE LAW 2017
R2,508.00 Including VAT

SEMINAR – NEW CHANGES AND DANGERS IN LABOUR CASE LAW 2017
The Constitutional Court and other senior courts have made a number of crucial decisions during 2017. These decisions have far reaching importance for all employers. This seminar analyses these crucial judgments and explains their practical significance for employers. We identify ways in which employers can cope with these legal changes effectively and in compliance with the law in the following areas:
Discipline and dismissal
Intolerability of employment relationship – new perspectives
The validity of settlement agreements
Racism
Industrial espionage
Prescription of arbitration awards
Transfer of a business
Refusal to work overtime and nightshift
SEMINAR DETAILS
PRESENTER:
Ivan Israelstam, CEO of Labour Law Management Consulting has over 15 years' experience as a litigator at CCMA and 4 years as a CCMA Commissioner. He writes numerous labour law columns in major publications and is the author of labour law books. Ivan chairs RCCI's Labour Relations committee and gives conference, seminar, radio and TV talks. He is featured in the book WHO'S WHO IN SOUTHERN AFRICA.
DATE & TIME: Thursday 29 June 2017  (Registration 8:45 Close 16:30 latest)
VENUE: Sunnyside Park Hotel corner of Princess of Wales Terrace & Carse O'Gowrie Rd, Parktown, JOHANNESBURG
INVESTMENT:   R2508,00 (including VAT) per person (Less 10% for 3 or more bookings). This includes a working manual, meals, an attendance certificate & parking.