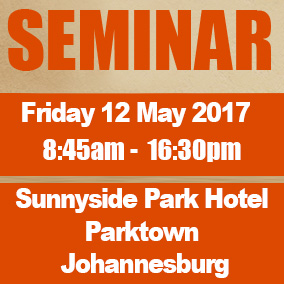 WINNING THE WORKPLACE WAR


Scroll down for more info
SEMINAR – WINNING THE WORKPLACE WAR
Many South African workplaces are affected by open labour conflict on an ongoing basis. Another name for ongoing conflict is war. Even those workplaces that appear relatively peaceful on the surface have deep seated disharmony below the surface. This disharmony is born largely from fundamental resentment by workers of perceived unfairness. Senior executives, line management and HR/IR practitioners are faced with the daunting challenge of managing these workplace wars. The seminar covers:
Constructive wage negotiations
Grievance handling
Alternative dispute resolution
Strike management
Winning the Workplace War by building healthy management-employee relationships
Transforming the economic relationship between employers and employees
SEMINAR DETAILS
PRESENTER:
Ivan Israelstam, CEO of Labour Law Management Consulting has over 15 years' experience as a litigator at CCMA and 4 years as a CCMA Commissioner. He writes numerous labour law columns in major publications and is the author of labour law books. Ivan chairs RCCI's Labour Relations committee and gives conference, seminar, radio and TV talks. He is featured in the book WHO'S WHO IN SOUTHERN AFRICA.
DATE & TIME: Friday, 12 May 2017 (Registration 8:45 Close 16:30 latest)
VENUE: Sunnyside Park Hotel corner of Princess of Wales Terrace & Carse O'Gowrie Rd, Parktown, JOHANNESBURG
INVESTMENT:   R2508,00 (including VAT) per person (Less 10% for 3 or more bookings). This includes a working manual, meals, an attendance certificate & parking.
989 in stock